In the largest crowd ever assembled abroad for a US presidential candidate, Barack Obama spoke in Berlin before 200,000+ German citizens, many waving American flags.
"The walls between the countries with the most and those with the least cannot stand. The walls between races and tribes, natives and immigrants, Christian and Muslim and Jew cannot stand...True partnership and true progress requires constant work and sustained sacrifice. They require sharing the burdens of development and diplomacy; of progress and peace. They require allies who will listen to each other, learn from each other and, most of all, trust each other. ...People of Berlin, people of the world, this is our moment. This is our time." -- Barack Obama in Berlin, 7/24/08


How do you want America represented.... Like this?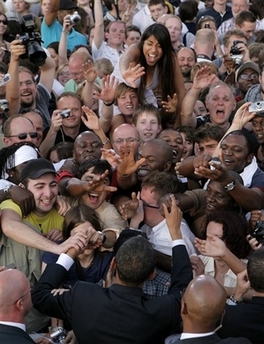 Or do you want America represented like this, the way John McCain would like to continue:
Berlin
London
Sidney
Brazil
Vienna
Prague
India
South Korea
The xenophobic isolationist white christian authoritarian neo-con regime of GW Bush and John McCain is now officially DEAD.